Love with the artistic expressions of all time, I stopped to see the meaning and importance of these small works of art that have always existed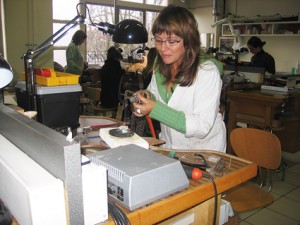 in all remote place and time where humans existed: the jewellery.
Historically, the jewels have been synthesized in small and valuables expression of the most powerful man symbolic elements: power, range, membership, thoughts and values, distinction, elegance, uniqueness, exchange … and have not lost their function to today.
Caught by the beauty of these objects…attending Easo Polytechnic Institute, in San Sebastian. With a long professional background, knowing the feelings and emotions of Human Nature, I start a process of training and research of precious elements, their reactions and behaviour, a process in which I put all my energy to create jewellery that cause emotion attraction and aesthetic pleasure to whoever possesses, to become proper objects.