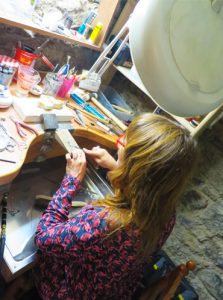 They are meant for women with a taste for art and contemporary design, so expect to have different jewellery to the above, according generations forms of dress, work, and in general, to be present in public life in the present.
Women who are "on" the current artistic trends, mainly in the field of fashion and visual arts, will feel familiar and attracted to these gems that fall within the trends of contemporary landscape.
These gems are away from the glitz and luxury, unless special requests or special occasions, they are directed to provide a touch of class and uniqueness than to draw attention disproportionately within the set.
Target customers who value the acquisition of real gems, different, unique,…just for a little higher price than the average price of allowances jewellery or industrial manufacturing of large production.
Occupy the space between the conventional classic jewellery and high jewellery, it is unique pieces made with natural materials: silver, gold and real gems, jewellery made by hand, with contemporary designs, high quality finishes and with possible customization of basic designs. For women who do not want to sacrifice the quality of a true jewel in the name of modern design.