You will shine with it!
The silk route between Constantinople (now Istanbul) and the Chinese city of Chang'an (now Xi'an), is eight thousand miles over mountain ranges, deserts and high plateaus. Silk appears in the Mediterranean for the interest of the Chinese Empire in getting horses to fight the nomadic tribes, paying them with silk.
A romantic whole. Traditional designs to say "I love you".
Description: 925 Silver Blue Topaz heart size 14x15x8 mm. 6 blue rhinestones 3 mm.
Weight 6.5 grams.  Long 30 cm (adjustable on request).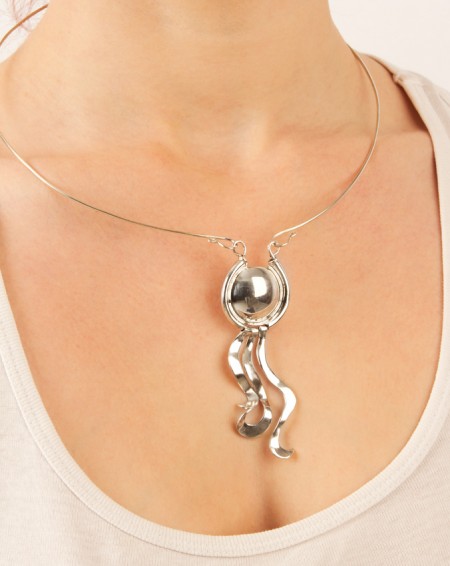 Elegance for any occasion.
Cristobal Balenciaga (1895 Getaria -1972 Javea). Haute couture, dressmaker between fashion and architecture. The model 114, a tailored suit, 1967 winter collection inspired this set.
Description: Argent 925. Poids 8.7 gr. Longueur 8 cm. Largeur 3 cm. Hauteur 1 cm. Tour de cou en fil d'argent, hauteur réglable sur commande.